We know that Christmas is a time to celebrate. And we are giving you more reasons to be holly and jolly. We are doing a giveaway! We will be selecting two lucky winners to win a 6 month supply of our bariatric multivitamins. Check out the video below to find out how you can enter to win this prize.
The giveaway will end on December 18th and the winner will be announced the following day. You can enter on both YouTube or Instagram, or both to increase your odds of winning!
The winners will each get a 6 month supply of our Bariatric multivitamins. We offer these vitamins in a chewable or capsule form so you will be able to choose based on your preference.
For Current Patients Only:
If you do not have Instagram or YouTube, we want to offer you a chance to enter our giveaway as well. So, you can enter by leaving us a Google review rating your experience at our office.
**Note: You have until December 31st to leave us a review to enter to win. Winner will be announced on January 3rd. 
---
How to Enter to Win on Instagram:
2. Like and share this picture on either your Instagram feed or story, but be sure to tag us so we know you have done so!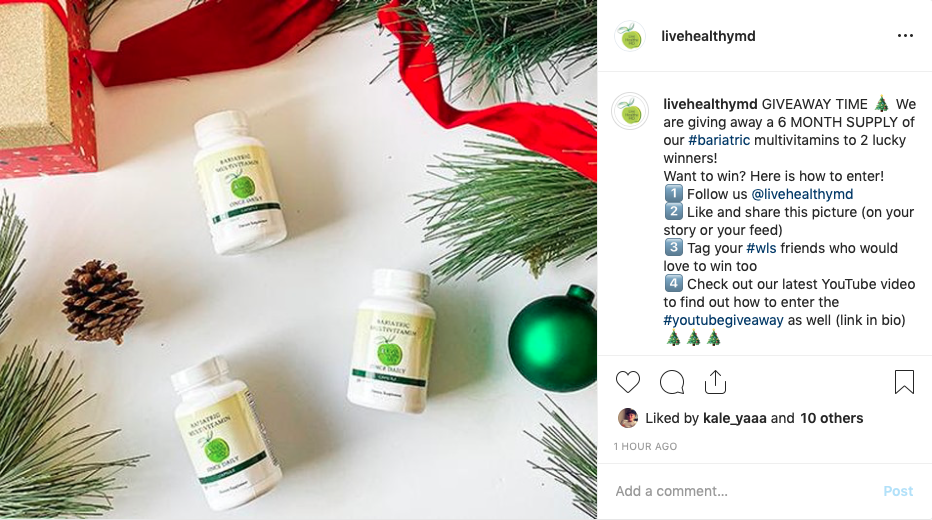 3. Tag your bariatric buddies to tell them about this great giveaway
---
How to Enter to Win on YouTube:
2. Comment on the Giveaway announcement video telling us what your favorite non-scale victory is
3. Turn on the notification bell to make sure you don't miss the video where we announce the winners
4. Share with your family and friends so they can enter to win too!