Food & Nutrition
5 Tips: Grocery Shopping for Weight Loss
This week we decided to take a trip to the grocery store to show you guys how to grocery shop like a pro! At Live Healthy MD, we get a lot of questions about what our patients can and can not eat before and after surgery. I am showing you all how to navigate the grocery store and pick up some delicious staple items!
In this video, I picked up a few items that I believe are great staple foods for our patients. My grocery list changes every week, however there are a few key pieces of advice I personally use and tell our patients when shopping for "weight loss" foods.
My Grocery Shopping Advice:
Tip #1:
Stick to the outside of the grocery store. This is where you are going to find the foods that are "allowed" on the pre-op and post-op diet. You will also avoid the temptations that sit on the shelves in the middle aisles.
Tip #2:
Read the label! Food manufacturers like to hide sugar in everything; even those items you wouldn't think would contain sugar such as seasonings.
Tip #3:
On that note, avoid foods that are labeled as "fat free" or "low fat". First off, fat is good for us when consumed in the appropriate amount. Secondly, when fat is taken out, something else is put in to add more flavor and in most cases it is sugar. We recommend just avoiding these "gimmicky" labels and going for the real deal.
Tip #4:
Most registered dietitians praise the consumption of all fruits and vegetables. For patients looking to lose weight, they must watch out for their carbohydrate consumption and fruit, otherwise known as nature's candy, is full of carbs and sugar. We suggest our patients stay away from fruit in general as it is a tricky topic, however if you must have something, berries and melons are the best option. Similarly, individuals looking to lose weight should avoid starchy vegetables such as corn, carrots, potatoes, etc.
Tip #5:
Make a shopping list! I am a huge advocate for planning your meals and when you make a list, you know exactly what you are going in to the store to buy. Another benefit of making a list is it will help you stick to a budget—cha-ching!
Over the next few months, I will be talking about everything related to grocery shopping.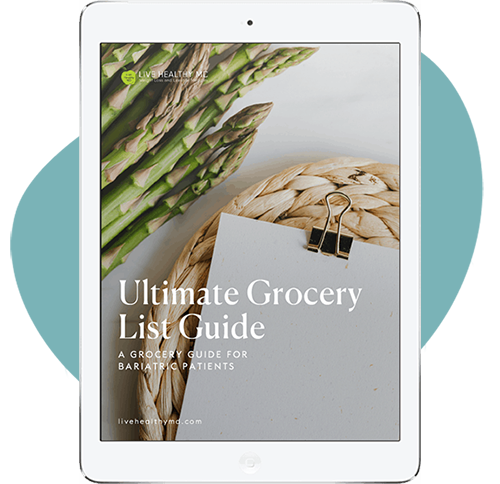 Ultimate Grocery List Guide
Grocery shopping may seem like a chore, especially if you are trying to stick to a low-carb diet after weight loss surgery or just trying to lose weight. So, we have simplified your trip to the grocery store with this list of bariatric essentials.
Download Guide